POINT
ASK's Rolling Guide System (RGS) and ASK-Hepco's Precision Ring & Track systems(PRT2) offer speed, silent operation and easy assembly in a way linear guides cannot. Unlike guides that allow movement only along a straight line, the RGS and PRT2 can be configured as a perpetual cycle, a 360° circular arc, or in any other curve and straight line combination. The RGS and PRT2 are simple, customizable and can be procured at low cost. Customers who switched to the RGS and PRT2 after using standard recirculating ball bearing units have been extremely satisfied with the results. (Available in steel or stainless steel)
Design freedom using curves and straight lines (360° complete circular arc rail also available)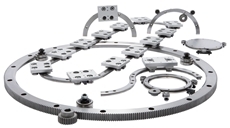 Curves and straight lines can be flexibly combined to construct perpetual cycles or complex lines. ASK can even provide on order a 360° complete circle with no joints(ASK-Hepco "PRT2").
Simple configuration enables silent travel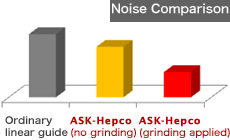 The RGS and PRT2 achieve astonishingly quiet travel compared to standard recirculating ball linear guides as the steel balls do not make contact with the track. As well as reducing the noise generated by entire systems, minimizing noise helps to alleviate worker stress.
High-speed travel (up to 8m/s)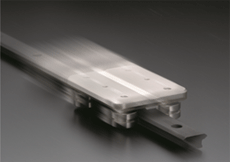 Reaching a maximum 8m/s, the RGS and PRT2 are even faster than standard recirculating ball linear guides. Such previously-unattainable speeds offer enormous advantages in terms of improving equipment and system efficiency and shortening production time.
Suitable for harsh environments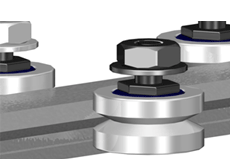 Unlike recirculating ball guides, the steel balls do not run directly over the track, making the RGS and PRT2 superior at keeping out foreign particles and therefore recommended for harsh environments, where cutting oil is used for example, or in the presence of powder or dust.
RGS Curve Motion System® for 3-D travel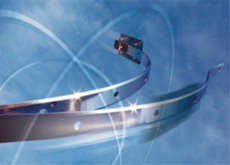 In addition to movement across a flat plane, the RGS Curve Motion System® incorporates motion through three-dimensional space and twisted rails to realize special set-ups with freedom of movement similar to a roller coaster. ASK will use proprietary know-how (patent application filed) to help you develop unique designs.
Lubrication not necessary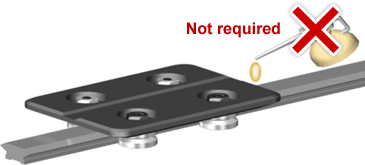 Simple construction means the RGS and PRT2 can be used without lubrication. Regular maintenance is also easy, allowing a reduced lubrication frequency after initial lubrication. This feature makes the RGS and PRT2 ideal for when lubricant use is inappropriate or follow-up lubrication is difficult.
Simple rail connection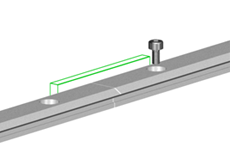 Simple rail construction makes assembly, installment and connection easier with the RGS and PRT2 compared to ordinary linear guides, thereby cutting the time and hassle it takes to extend, shorten or reconfigure systems and lines. This helps to improve efficiency by facilitating line modifications, as well as operating hour and output adjustments, in busy or slow periods.
Bearings can traverse gaps in rails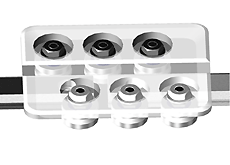 RGS and PRT2 bearings are able to traverse small gaps in rail joints. It is therefore possible, for example, to insert a partition between two connected environments or processes, or even a junction.
Preload (torque) adjustment available to order
ASK will set preloads prior to delivery. Extra adjustments can be made simply by tightening the nuts.